Coating Systems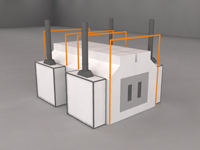 http://www.intellifinishing.com/coating-systems.html
IntelliFinishing researches and evaluates the best paint coating system for your finishing process and your requirements for any finishing type needed, including but not limited to: liquid coating, powder coating, autophoretic and e-coat. You can count on us to test, measure, and run any paint process through its paces before it is installed to make sure we are installing the best option for your manufacturing processes.
Comments
Add Comment
Please login to add comments!